Invisalign
---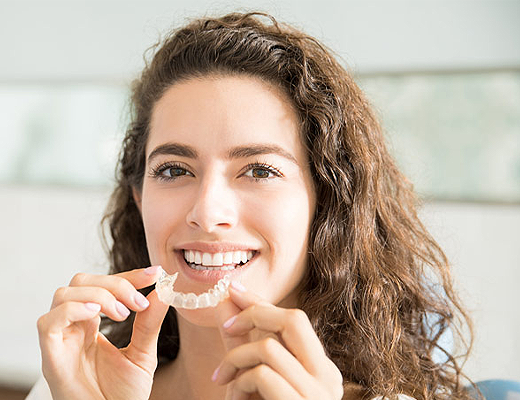 Has your dentist in New York, NY, recommended that you have your teeth straightened? If so, Invisalign aligners are an extremely popular option for many reasons.
Here is everything you need to know about Invisalign treatment.
What Is Invisalign?
Invisalign is a brand of clear plastic orthodontic trays used to straighten teeth. Invisalign aligners are generally a more popular teeth straightening option than traditional metal braces.
What Dental Issues Does Invisalign Correct?
Invisalign can work to correct a number of dental issues.
For example:
Teeth spacing and crowding.
Some types of underbite, overbite, and crossbite issues.
Gapped teeth.
Open bite.
Misaligned and crooked teeth.
Overlapping teeth.
How Does Invisalign Treatment Work?
Invisalign treatment in New York, NY, is quite simple. Your dentist will take a precise 3D digital scan of your teeth and develop a custom treatment plan based on your specific dental needs. The dentist will then order your aligners. Once your dentist receives your completed aligners, they will trim them until they fit perfectly with your teeth.
Next, you will check in with your dentist every four to eight weeks or so to make sure your aligners are working like they should and to change your aligner trays as needed.
How Long Do You Wear Your Invisalign Aligners Each Day?
You will wear your aligners continuously, including while you sleep. You only take them out while you are eating, drinking, brushing, flossing, or cleaning them.
How Long Does It Take for Invisalign Treatment to Work?
How long you must wear your aligners will vary from person to person. However, most treatments range somewhere between 6-18 months or so. This is a bit quicker than traditional metal braces that must be worn for at least two years.
What Are the Pros and Cons of Wearing Invisalign Clear Aligners?
Pros:
Invisalign aligners provide a better appearance due to their transparency.
Invisalign aligners are more comfortable because they sit flush against your teeth. Additionally, since they don't have any protruding metal pieces, they won't cut into your cheeks and gums.
Unlike when you wear metal braces, Invisalign aligners allow you to eat any food you want. That includes hard, sticky, and chewy foods.
Brushing and Flossing Is Easier
With Invisalign aligners, brushing and flossing are easier because you simply remove your aligner trays and then brush and floss normally.
Cons:
Not for Complex Dental Issues
Invisalign aligners are best suited for minor dental issues and don't work for more complex dental issues.
Must Be Removed When Eating
Invisalign aligners must be removed when you are eating or drinking anything other than water. This is because soft plastic trays can be easily damaged by food. Additionally, the clear plastic trays are prone to staining and warping from hot foods and drinks.
Invisalign aligners require you to wear them for 22 hours or more daily. If you don't, it could slow your teeth straightening progress or damage the end results. That means you must be disciplined enough to wear them as recommended.